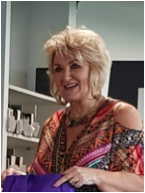 Last Saturday we had a fabulous afternoon at Cardiff library, here at beautiful Lake Macquarie. The library hosted the event and a lovely crowd of people turned up to join me as I officially introduced Rosie Hart and her mystery series to the reading community – and the world at large.
Each guest received a gift bag from me and the library very generously gave each person a copy of the first Rosie Hart novel, Chocolate and Old Lace. We also had a delicious afternoon tea – again provided by the library and some cute prizes, randomly drawn by my right hand man – 'The B'.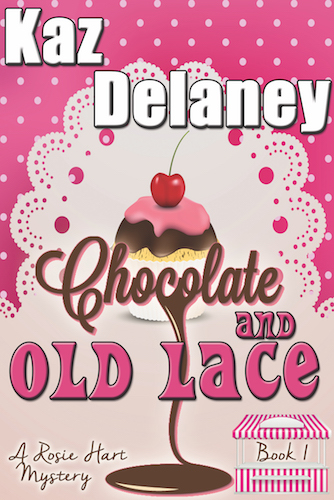 All three of the first books in the series were launched and the event organisers had themed the afternoon tea to compliment and echo the titles and themes of the books. Cool, yeah? Chocolate cake and chocolate for Chocolate and Old Lace, scones with jam and cream, and platters of fruit that included fruits traditionally used in jam making for Preserving the Evidence (Book 2) and candy-studded cupcakes pastel coloured sponge squares and bowls of sweets for Candy Coated Conspiracy (Book 3).
Such fun! And following their lead, I also themed the gift bags. I didn't want to double up on the chocolate, so for the first book, I added tiny bottles of designer perfume wrapped in lace, small jars of plum and port jam I'd made for the occasion for the second book and a lollipop that was almost an exact replica of the lollipop on the cover of the third book. Of course there were also pens and pencils, some recipe cards created expressly for the day, and a word puzzle. Thank you to everybody who came along, and thank you also to everyone, no matter where you are, for buying Chocolate and Old Lace. I do hope you enjoyed it, and if you did I'd be very grateful for a review on Amazon, Goodreads or Bookbub. I'm super, super excited that the next blog will be announcing the release of Preserving the Evidence, Rosie's next adventure. I'll be talking more (and more and more!!! ? ) about that really soon. Can't wait!
And in keeping with the themes mentioned above, I'm adding the recipe for the plum and port jam I made for the gift bags. It's not only super easy but super delicious. It's perfect for making right now while the plums are so readily available. They're still so fresh and firm, perfect for making jam.
Please don't forget the free novella, The Funeral Crasher – it's yours just for signing up for my newsletter. Here's the link.
PLUM AND PORT JAM
1 kg (2 lbs) firm, ripe red plums
¼ cup orange juice
5 cups (approx. – see method) white granulated sugar
½ cup Port
1 cup water
Method:
Chop unpeeled fruit into small pieces
Discard seeds
Combine fruit, juice & water in a saucepan & bring to boil. Boil uncovered until fruit is soft and pulpy. Approx. 15mins.
Measure fruit mix. Return to saucepan and add 1 cup of sugar for each cup of fruit.
Add port. Stir over lowered heat until sugar has dissolved.
Bring to boil. Boil uncovered, without stirring, for approx. 35mins or until it tests satisfactorily.
Pour or ladle hot jam into hot sterilized jars. Seal immediately.
Testing jam for readiness
Everyone has their own method of testing jam. Mine is simple. I put three small flat (china or pottery) plates into the freezer at the start of the process. Freezer-proof is recommended, however, I've never had one crack as they're not in the freezer for overly long. You simply want the plate VERY cold. When you feel jam is ready for testing, place a teaspoon of same onto the chilled plate. Leave for a second and then drag the back of another (cool) teaspoon though the center of the mound. If the jam 'wrinkles' and the spoon leaves a clear trail that doesn't immediately close in, your jam is ready. (You can usually tell immediately the jam hits the chilled plate. It will start to give a 'set' appearance and texture when touched).