Served at room temperature or still slightly warm, this is a salad that's both delicious in winter and chilled in summer.
Ingredients
1 kg (2lbs) *chat potatoes cut in half
1 pound green beans, trimmed and left whole
250g bacon cut into strips
1/3 cup basil pesto (recipe below)
salt and freshly ground black pepper to taste
*chat potatoes are small, white washed potatoes suitable for individual serving.
Basil Pesto
This is a basic pesto recipe. If you have one you prefer, use that
¼ cup pine nuts
1 clove garlic, peeled
3 cups lightly packed fresh basil leaves
¼ cup grated parmesan cheese
1 tablespoon lemon juice
salt and ground black pepper
¼ cup olive oil
Directions
Cook potatoes in salted boiling water until tender but still holding their shape. Do not over-boil. Drain immediately.
Do the same for beans OR steam them above the boiling potatoes. Beans will take half the cooking time of the potatoes.
When beans are tender but still firm, drain them and then plunge immediately into ice water to prevent them going soggy.
While potatoes are cooling, fry bacon strips until nicely browned and on the crisp side.
Transfer the potatoes, beans, potatoes and bacon to a large serving bowl.
Add your favorite pesto (or use the recipe below) and gently stir to coat evenly.
Season with salt and pepper.
Pesto Directions
Brown (toast) the pine nuts in a dry skillet or wide-based saucepan over medium heat. Shake pan frequently. Take care not to burn or the nuts will be bitter. 2-3 minutes maximum.
Using a food processor blend garlic and pine nuts until minced. Add basil, parmesan cheese, lemon juice and salt & pepper.
With machine on slow speed, stream oil through the lid cavity and process until completely blended.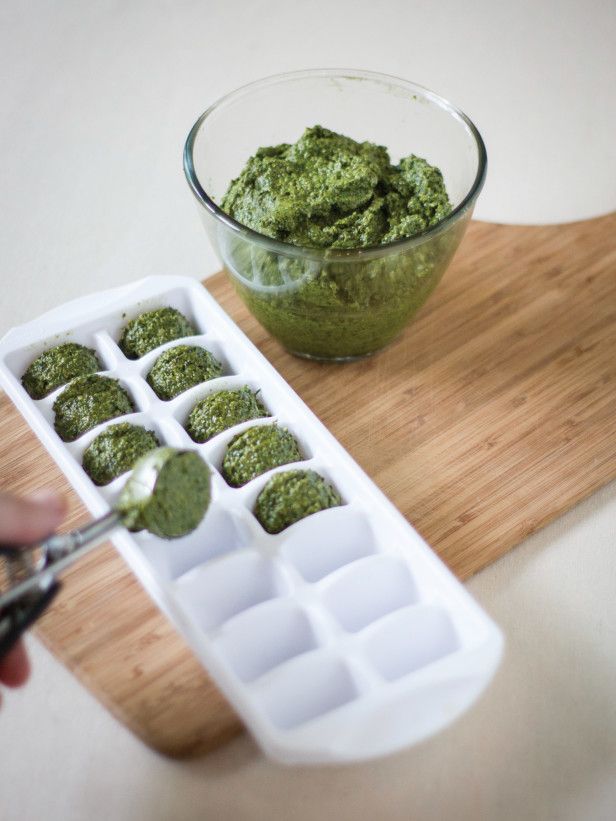 Note: Basil pesto freezes well, and handy to have for when you need a quick pasta dish – or you're making your next potato, bean, bacon and basil pesto salad. I find the easiest way is to freeze in ice cube containers, shake out when frozen and then transfer to a freezer bag. The cubes will stay separate to each other unless you accidentally add any moisture. So don't. ☺
Freezing method
Strip, trim and slice beans to your preferred state. I like the old-fashioned diamond or diagonal cut. You may like square cut or whole.
Using a metal colander or fine wire cooking basket, drop the beans into boiling water and leave for two (2) minutes (timed from when the water reaches the boil again).
Lift and immediately plunge the beans into a huge bowl or tub of ice water.
When cool – only a minute or two – remove and spread over clean dry cloths (tea towels?) and pat dry.
Spread the dry beans over cookie sheets or tray, ensuring there is one layer only.
Freeze uncovered
As soon as beans are frozen tip them into freezer bags and seal and date.
Notes:
Freezing them this way will ensure they won't clump and it will be easy to remove exactly how many from the bag as you wish. Just like ones from the store! Except these are YOURS and they're fresh!
The beans are not ready for serving. They still need to be cooked in your preferred way to serve with a meal. They will, however, not take long, as some of the cooking process has already happened.