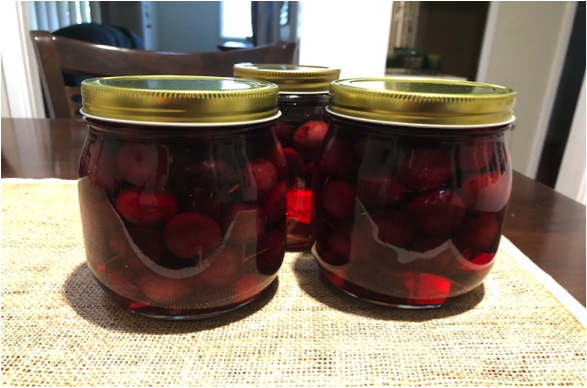 Ingredients
1kg firm ripe cherries, no blemishes
3 cups brandy
1 cup cranberry juice
2 cups white sugar
Method
Wash cherries & remove stems, do not remove seeds
Carefully place cherries into sterilised jars
Combine, brandy, sugar  & juice
Dissolve sugar over medium heat. DO NOT allow to boil or become too hot. Brandy is flammable and over-heating will destabilise for this function. Brandy is the preserving agent.
Pour warm liquid over cherries, right to top.
Seal jars.
Stand in a well lit position for 1 week. Invert jars a few times a day.
Store in a dark cool place for 6 months before opening.
*Note. Any remaining brandy, juice, sugar syrup is delicious mixed with champers over ice.